Victoria Moore
Cofounder
1st Generation Daughter – U.S. Navy
Artist, Author & Activist
Fascinating research was required to connect dots and discover truths. The website below evolved over 10 years  as a way to inform The Chief's son and family of his extensive Atomic Naval career. Includes photos, medical info, Naval activity in the Joint Task Force theaters and important resources gathered in the process of investigating the situation of  Children of Atomic Veterans in the U.S. and worldwide impacts to the generations to follow.
---
​My crazy atomic life seemed normal to me, but now being able to share the stories I am only beginning to understand the depth and dimensions of the deceit and its impacts. Being groomed for silence since birth, with a threat of high fines and jail time for Q clearance security violations, stated as 50 years, when I was first informed  
I became aware of my fate when the "Gold Team" of Naval Medical Officers informed me I'd have a "complicated future." The Chief's repeated and extensive exposures to ionizing radiation at the Pacific Proving Grounds included some of the most out of control tests the U.S. conducted during the Cold War Nuclear Arms Race. 
The Chief's kaleidoscope of cancers were growing and I was strongly encouraged not to  reproduce due to presumptive genetic damage I carried and could pass on. To a 12 year old, pictures of deformed babies and a two-headed pig more than reinforced their message that day. But it turns out, I was a lucky one, at least I was informed. Most children of Atomic Veterans  are never told, and if/when they do discover it, the search for health resources gets murky.
Author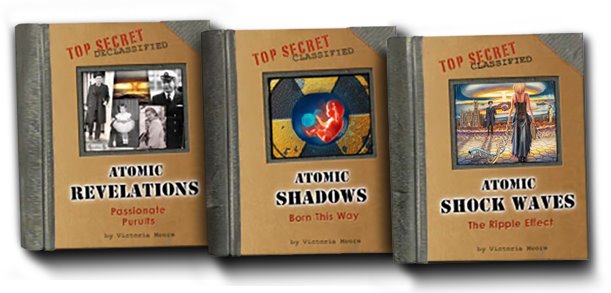 Artist

Chasing reality like Alice in some cloaked Atomic Wonderland has shown up in my art and life in the most amazing and strange ways.