Victoria Moore
Cofounder
1st Generation Daughter – U.S. Navy
Artist, Author & Activist
ARTIST. AUTHOR. ACTIVIST.
My Father, The Chief, was repeatedly exposed to Inonizing Radiation on the U.S. Navy command ship for many atomic and hydrogen bomb testis in the Pacific from 1952-62, including the most out of control tests conducted during the Cold War Nuclear Arms Race. The "Gold Team" of Naval Medical Officers infomed me of my Atomic Legacy in 1968 at age 12, that "as an atomic child" I'd have a "complicated future."
My situation was quite rare. The Chief, was a known and well monitored lab-rat in U.S. Human Radiologic Experiments from 1951 until his death in 1989.
The kaleidoscope of cancers for he and I both, came with the requirement I not reproduce due to presumptive genetic damage, nor could I discuss it "for 50 years" due to his above Top Secret clearances. Yet I felt lucky and empowered because I knew. Most never knew. My crazy atomic life seemed normal to me, but I can't imagine not knowing the truth about my Atomic Heritage. Knowing the extent of it has influenced almost every major life decision. I feel obligated to help others explore its dimensional genetic impacts and improve options for others like me.
Fascinating research was required to connect dots and discover truths. The website below evolved over 10 years  as a way to inform The Chief's son and family of his extensive Atomic Naval career. Includes photos, medical info, Naval activity in the Joint Task Force theaters and important resources gathered in the process of investigating the situation of  Children of Atomic Veterans in the U.S. and worldwide impacts to the generations to follow.
The co-founders were recognized jointly by representatives of the Republic of the Marshall Islands and the U.S. Atomic Veterans recognized as the Enewetak Atoll Atomic Cleanup Veterans. Atomic Veterans recognized as the Enewetak Atoll Atomic Cleanup Veterans with a Humanitarian Award in 2020 for their commitment to all Atomic Veterans and civilian descendent's fight for recognition and concern for their ongoing medical challenges.
Accessible IR testing would allow people who have knowledge of a radioactive event in their family line but no details, to gain valuable medical results that can influence major life decisions. Only the sciences can help us untangle their ultimate entanglement.
---
​My crazy atomic life seemed normal to me, but now being able to share the stories I am only beginning to understand the depth and dimensions of the deceit and its impacts. Being groomed for silence since birth, with a threat of high fines and jail time for Q clearance security violations, stated as 50 years, when I was first informed  
I became aware of my fate when the "Gold Team" of Naval Medical Officers informed me I'd have a "complicated future." The Chief's repeated and extensive exposures to ionizing radiation at the Pacific Proving Grounds included some of the most out of control tests the U.S. conducted during the Cold War Nuclear Arms Race. 
The Chief's kaleidoscope of cancers were growing and I was strongly encouraged not to  reproduce due to presumptive genetic damage I carried and could pass on. To a 12 year old, pictures of deformed babies and a two-headed pig more than reinforced their message that day. But it turns out, I was a lucky one, at least I was informed. Most children of Atomic Veterans  are never told, and if/when they do discover it, the search for health resources gets murky.
Author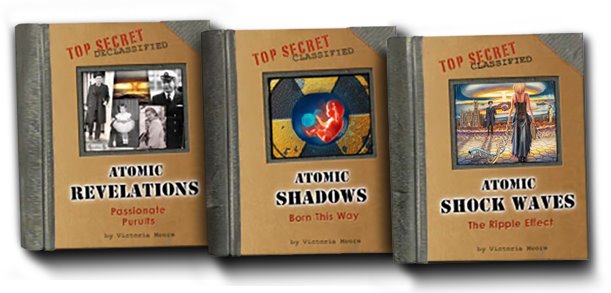 Artist

Public unveiling of this artwork will take place March 1st, 2021
Unintended Consequences  evolved as a way to recognize and raise awareness of the ongoing injustice to the indigenous people of the Republic of the Marshall Islands on their national Remembrance Day. This painting is a symbol of ongoing support, and to remind us all, "We are not alone", the theme for this year's RMI convention. Our communities are growing, and to my brothers and sisters in the Pacific, the Children of Atomic Veterans and the Enewetak Atoll Atomic Cleanup Veterans, Atomic Veterans, Children of Atomic Veterans, civilian test and cleanup contractors and to those of us Still Glowing. Details about featured painting >
We see you. You are not alone.
Original Painting  Still Glowing will offer the painting as an Fundraiser Auction item in 2021. Details to follow.
Ltd Editions of 300 on canvas are in pre-production now and will be available in two sizes, 24 x 36 (dim. of original) and 20″ x 30″
Artist Proof 1 (AP1) will be gifted to the National Museum of the Marshall Islands by the artist and Children of Atomic Veterans.
AP2 will be gifted to the National Office of choice by the Marshall Islands representatives of the RMI Remembrance Day committee by the artist and Still Glowing.
A TPNW Special Acrylic Edition will be made available as a unique 16″x 24″ limited edition of 197, representing the current 197 recognized nation states globally will be available. Note: The Treaty on the Prohibition of Nuclear Weapons (TPNW), or the Nuclear Weapon Ban Treaty, is the first legally binding international agreement to comprehensively prohibit nuclear weapons with the ultimate goal being their total elimination. Entered into force on 22 January 2021.
Tax Deductible Contributions are tax-deductible to the extent permitted by law.
Benefiting StillGlowing.org  Proceeds usually reserved by agents or gallery from the sale of "Unintended Consequences" original painting and limited editions will benefit StillGlowing and Children of Atomic Veterans PROJECTS
"My family has a very personal and  longstanding relationship with the Marshall Islands. Until recently, atomic influences were representationally modified in my paintings a giant cloud formations, volcanos, and ripple effects were required in older works due to the high-level clearances I was restricted under." – vm
Smithsonian NASM requests two Paintings from the "Holes in the Sky" Series for their permanent collection.
Director Don Lopez personally selected two paintings from the atomic mushroom cloud series "Holes in the Sky", showcased as a backdrop to General Paul Tibbets 90th birthday celebration, recognition for his Red Gremlin Squadron and their successful Mission Bolero and an honorary airshow in Atlanta. A decorated WWII fighter pilot himself, Depty Dir. Lopez received both paintings in his Washington D.C. office, informing me one would remain at the Capitol Mall NASM, and the other would reside at the Smithsonian NASM Udvar Hazy Museum.
Illuminations  46″ Oil on Convexo Canvas
Halo  46″ Oil on Convexo Canvas
\
Chasing reality like Alice in some cloaked Atomic Wonderland has shown up in my art and life in the most amazing and strange ways.