Ground Zero

Between 1948 and 1958, 43 atomic blasts rocked the tiny atoll — part of the Marshall Islands, which sit between Hawaii and the Philippines — obliterating the native groves of breadfruit trees and coconut palms, and leaving an apocalyptic wreckage of twisted test towers, radioactive bunkers and rusting military equipment. Four islands were entirely vaporized; only deep blue radioactive craters in the ocean remained. The residents had been evacuated. No one thought they would ever return.
In the early 1970s, the Enewetak islanders threatened legal action if they didn't get their home back. In 1972, the United States government agreed to return the atoll and vowed to clean it up first, a project shared by the Atomic Energy Commission, now called the Department of Energy, and the Department of Defense.
The Marshall Islands becomes part of the Trust Territory of the Pacific Islands in 1947, created by the UN and administered by the US. In 1948 the Islanders are forced to evacuate Enewetak Atoll as US expands nuclear weapons testing program in the area. The isolated Marshall Islands were the site of the most devastating nuclear tests the US ever conducted.
---
Human Radiologic Experiments in Paradise
To the Marshallese and their advocates, their migration to Dubuque, Iowa is a stain on the united states that keeps spreading: a failure to take responsibility for cold war-era nuclear testing that endangered a native population; for promising and then denying that population health care; for neglecting to correct for a quarter-century old mistake that deprived them of services; and for leaving them struggling against an alien system and knocking on the doors of elected officials who won't represent their interests.
To the Enewetak Cleanup Veterans who were sent in to clean up the physical mess the U.S. created, their story and fight for health care is an ongoing battle, and while the Marshallese Islanders have at least been acknowledged.
---
Scarred Lands and Shattered Lives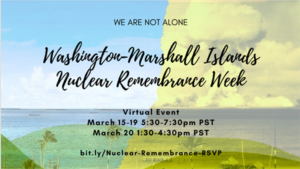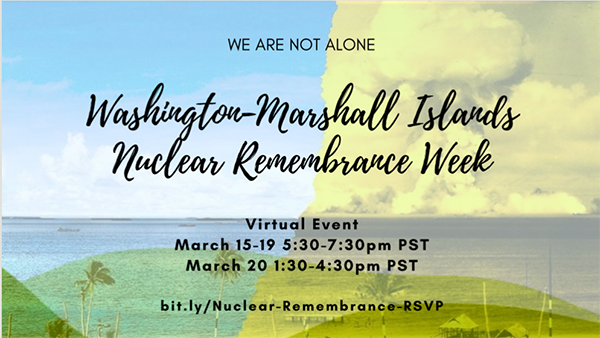 ---
Cold War Landscapes and Legacies: The Tomb
'Tomb' holding 3.1 million cubic feet of nuclear waste could crack open due to climate change.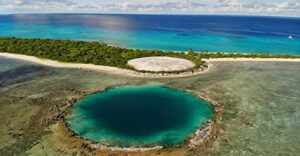 "They did not realize we are human beings." POLITICO by DAN DIAMOND 01/26/2020
That was before the United States nuked their homeland. Ruined their food supply. Then promised them free health care through Medicaid in return—but yanked it away in a mid-1990s welfare reform deal. In Washington, a small band of lawmakers is trying to restore the islanders' Medicaid coverage, a fight that one Democrat already has fought and lost for a decade. Here in Iowa, meanwhile, these islanders are finding that Dubuque offers them something they desperately need: ​The promise of free health care, delivered at a local clinic. Read More
---
Global Repercussions

"We don't want it. We didn't build it. The garbage inside is not ours. It's theirs." said Hilda Heine, the president of the Republic of the Marshall Islands, the LA Times reports. ​The U.S. government may have detonated the bombs and built the tomb, but they are now reneging their responsibility to make sure it does its job, placing the burden on the Marshallese government because the dome is on Marshallese land, say locals. Marshallese Islander Resources.
---
Marshall Islands Timeline
A chronology of key events:
circa 2000 BC – First Micronesian navigators arrive in the Marshall Islands, naming the atolls Aelon Kein Ad – "our islands". They are skilled navigators able to make long canoe voyages among the atolls.
1521 -29 – Portuguese navigator Ferdinand Magellan and Spaniard Miguel de Saavedra visit the islands.
1592 – Spain lays formal claim to the islands.
1788 – The Marshall Islands are given their name by British Naval Captain John William Marshall who sails through the area with convicts bound for New South Wales.
1864 – German Adolph Capelle establishes the first trading company. Several other German trading companies follow suit.
1885 – Germany annexes the Marshall Islands and pays Spain 4.5 million US dollars in compensation. Germany leaves the running of the islands to a group of powerful German trading companies.
1886 – Germany establishes a protectorate over the islands.
1887 – The Jaluit Company, a German corporation, is entrusted with the governance of the Marshall Islands.
1914 – Japan captures the islands and builds several large military bases there.
1920 – League of Nations grants Japan a mandate to administer the islands.
1944 – US forces capture islands from the Japanese.
1946 – US begins a nuclear weapons testing programme called Operation Crossroads on Bikini Atoll. Chief Juda of Bikini agrees to evacuate the 167 islanders to Rongerik Atoll, 125 miles east of Bikini Atoll, on the understanding that they will be able to return once the tests are over.
1947 – The Marshall Islands becomes part of the Trust Territory of the Pacific Islands created by the UN and administered by the US.
1948 – Islanders are forced to evacuate Enewetak Atoll as US expands nuclear weapons testing programme in the area.
1954 – Bravo, the most powerful hydrogen bomb ever tested by the US, is detonated on Bikini Atoll.
1965 – US government sets up the Congress of Micronesia in preparation for greater self-governance in Micronesia.
1969 – US embarks on a long-term project to decontaminate Bikini Atoll.
1970s Islanders are told that it is safe to return to Bikini but are subsequently found to have dangerous levels of radiation in their bodies and are evacuated once again. Following exposure to such high levels of radiation the islanders begin to develop severe health problems.
1973 – Marshall Islands withdraw from the Congress of Micronesia seeking greater political independence.
1979 – Independence. US recognises the Constitution of the Marshall Islands and its government. Amata Kabua is elected president.
1980 – Having removed much of the topsoil on Enewetak Atoll, the islanders are permitted to return.
1982 – Officially renamed the Republic of the Marshall Islands.
1983 – Marshall Island voters approve the Compact of Free Association with the US which will give them independence. The Marshall Islands will receive financial and other aid from the US, which retains responsibility for defence. The US keeps its military base on Kwajalein Atoll. Today this is a vital part of the US missile defence shield tests.
1985 – US agrees to complete the decontamination of Bikini Atoll within 15 years.
1986 21 October – US Congress ratifies a Compact of Free Association giving the Marshall Islands independence. Islanders are promised compensation for damage caused by nuclear tests in the 1940s and 50s.
1988 – US-funded Nuclear Claims Tribunal is set up to determine a final compensation package to the islanders.
1989 – UN report warns that rising sea-levels will completely submerge the Marshall Islands by 2030 because of global warming.
1990 – UN terminates trusteeship status. Country is admitted to the UN in 1991.
1996 – Radiation levels are considered low enough to permit the return of tourism to Bikini Atoll.
1998 – Marshall Islands become one of only a handful of states to officially recognise Taiwan.
2001 – Nuclear Claims Tribunal determines damages to be paid to Bikinians. There is not enough cash to honour the award and it is left to the Bikinians to petition the US for more money. A decision is expected to take years.
2003 December – US president signs new Compact of Free Association, worth $3.5bn over 20 years, with Marshall Islands and Micronesia.
2004 January – President Kessai Note begins second four-year term.
2007 August – The Organisation for Economic Cooperation and Development (OECD) removes the Marshall Islands from its blacklist of uncooperative tax havens.
2007 November – National election takes place amid reports of "chaotic" organisation.
2007 December – Election results show no clear winner and are challenged in court and by a number of recount petitions.
2008 January – Parliament elects former speaker Litokwa Tomeing as president by 18 votes to 15.
2008 December – Government declares state of emergency as waves flood Majuro and Ebeye urban centres, displacing hundreds of people.
2009 October – Jurelang Zedkaia is chosen as president after Litokwa Tomeing is ousted in a no-confidence vote.
2012 January – Christopher Loeak becomes president.
2013 September – Pacific island leaders meet in Marshall Islands, sign "Majuro Declaration" promising to tackle climate change.
2014 April – The Marshall Islands sues all nine of the world's nuclear-armed states for allegedly failing to pursue disarmament talks stipulated under the 1968 Nuclear Non-Proliferation Treaty.
2014 March – Marshall Islands declares a state of emergency after major flooding.
2015 November – General election sees many veteran politicians lose office, including half the cabinet. Neither President Loeak's supporters nor the opposition KEA party muster a majority.
2016 January – Parliament elects independent senator Hilda Heine first female president of the Marshall Islands, after toppling President Carsten Nemra in no-confidence vote. He held office for one week.
US drops Forum Fisheries Agency treaty with Pacific nations, leaving Marshall Islands facing serious shortfall in revenues from fees.
2016 October – International Court of Justice rejects cases brought by the Marshall Islands against Britain, India and Pakistan for their alleged failure to pursue nuclear disarmament, saying it does not have jurisdiction in the matter.
---
Marshallese Islander Resources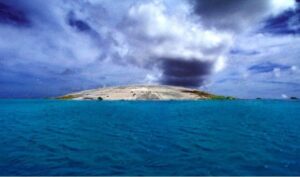 Medical Resources in the United States
Dubuque Pacific Islander Health Project
---
Locations of Nuclear Weapons Test Sites