Nuclear Impact Communities
Some traces of the past are hard to see. Absorbed in our Atomic History — living on in the very DNA of our people — is the legacy of the cold war and the emergence of the Atomic Age. The various ways ionizing radiation was unleashed on mankind in frontline communities is impacting multiple generations in their DNA. The fact our communities so closely overlap should serve as signposts, cautionary tales for the future of mankind.
Become a beacon of light and hope for those continuing to suffer. Let them know — the world is watching.
Atomic Research + Testing   On and off-shore testing during the Cold War left scars on land and communities around the world. More than 2,000 nuclear explosive tests have been carried out around the world. See map below.   Learn more > (link coming soon) 
Atomic Veterans + Cleanup Crews   . These men were exposed to the nuclear weapons detonated in Japan, Pacific Proving Grounds, Nevada ,New Mexico, Colorado, Mississippi  Australia, India, South Africa, Algeria, Soviet Union. Various military entities fall under this heading.  Learn more > (link coming soon)
Children of Atomic Veterans   . The offspring of Atomic and Cleanup Veterans . Included in this category is also the offspring  of  the many groups exposed to nuclear weapons testing .     Learn more > (link coming soon)
Civilian Populations    Around the world were exposed to fallout during Atomic weapons and energy research, uranium mining, nuclear fuel chains, weapons testing and use, nuclear plant/reactor disasters, amongst others.  Learn more >  (link coming soon)
Cleanup Crews   . The most famous Cleanup Crew was assigned to build "The Dome" in the Marshall Islands. It was an attempt to 'clean' the islands to allow the Marshallese to return home. These young men were sent in with no warning of the dangerous conditions and no proper Hazmat gear.  Learn more > (link coming soon)
Downwinders   . The populations living 'downwind' of the above ground Nuclear Weapons Tests. A highly documented community still working on being fully recognized . Learn more > (link coming soon)
Energy Workers   .  Learn more > (link coming soon)
Fuel Chain   .  Learn more > (link coming soon) 
Military   Often unsuspecting military personnel were involved in secret or restricted operations where a high degree of exposure incidents are also complicated by security clearances and limited access to critical information then and now.  Learn more > (link coming soon)
Miners   .  Learn more > (link coming soon)
Reactor Meltdowns    .  Learn more > (link coming soon)
Republic of the Marshal Islands   . The location of the United States Nuclear Weapons Tests. Decades later the Marshallese are still working for a more realistic compensation policy for their people. Learn more > (link coming soon)
Research   .  Learn more > (link coming soon)
Storage   .  Learn more > (link coming soon) 
Waste   .  Learn more > (link coming soon)
Weapons Testing   .  Learn more > (link coming soon)
Global Solutions: Finding Resources
As children of Cold War Atomic Veterans we were literally conceived during the birth of the modern Atomic Age. Some arrived as "at risk" births with presumptive genetic damage, others were suspected due to exposure but either were not documented properly due to faulty dosimeters or simply the lack of governmental tracking mechanisms.
Most unknowingly passed the damage on to their children unaware, only to learn later when they or their parent were declassified, or maybe it was a grandparent. Human Radiologic Experiments, (HRE's) were conducted by most governments involved in the arms race. Most governments and institutions didn't have tracking mechanisms in place.
We are left to support one another on a quest to improve our situation. So as not to duplicate efforts, we understand the need for centralized resources.
The need to stay informed is critical for ourselves and generations to come. As an identifiable group and we should harness this to help researchers study and inform us. This is a great place to start…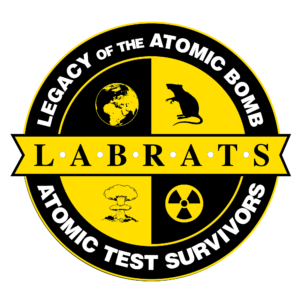 Member Organizations and Individuals from across the world are listed in the directory. The first of it's kind in the world, allowing people to contact their representatives within their country, ensuring that they are not forgotten and can receive any help they need.
LABRATS represents all individuals across the world who have been affected by the Atomic Testing programs.  We are one big family, connected together with one common bond. Our Education, Recognition and Awareness program is a new ERA for the community.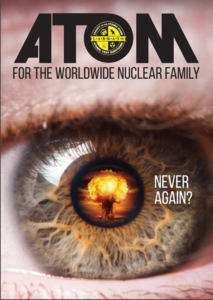 The Atomic family, includes Veterans, descendants, indigenous people and organizations that represent all aspects of the Atomic tests. Thousands of people have been affected by the tests, and there are many organizations across the world representing these people. LABRATS brings all of these organizations together in one place. We want your stories and your input for our site. Be sure to subscribe to their recently launched online and print magazine ATOM.
ChildrenofAtomicVeterans.org has chosen the narrower lane of genetic research to focus on and how the global opportunities modern science  brings can improve the outcomes for many generations of civilian decedents.
As we identify new resources we will continuing to update the pages below. For broader scope of subjects and resources, please let LABRATS help guide you through the entanglement ionizing radiation has brought to humanity.
---
Locations of Cold War Nuclear Weapons Test Sites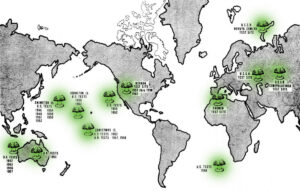 ---
Search for the Truth
Many Atomic Genetically Modified Offspring (GMO's) are only now discovering the truth or extent of their, or their child's medical impacts.
Understanding the range of conditions and organs effected is expanding, from blood disorders, reproductive challenges, cancers, birth defects, and a variety of emerging data is revealing and potentially hopeful for the future of mankind. Genetic damage is getting easier to identify, predict, evaluate and potentially valuable in treatments.
Getting this information however is nearly impossible, even for the Atomic Veteran themselves.  As offspring we struggle finding the information, dealing with civilian doctors who are less informed in my experience than military medical professionals. Not only have we had to watch our parents suffer in silence, often dying before their clearances expired, have lived under the shadow of them, many were allowed to bear children unaware of the genetic damage they were passing on,. Now not only have they suffered in silence with their own health impacts, they are forced to watch their children suffer.
​These generations of victims need this information, and we need it now. We need our respective governments' to allow those that can legitimately trace the exposures(s) in their heritage to have access to the information so we can help ourselves identify our risk potentials,  have the option of preemptive testing, or simply documents organized we can provide our physicians so they are better prepared to diagnose and treat the generations of victims now and those families now destined to produce a lineage of Genetically Modified Offspring (GMOs).
Emerging groups organizing online communities are desperate to help on another share information. The need to stay informed is critical for ourselves and generations to come. We are an identifiable group globally and we should harness this to help researchers study and inform us. Future generations depend on it. A porthole to post relevant research results or simply announce volunteer studies to this growing tribe. I've been at it since I was told I was an "Atomic Child" at age 12 by the U.S. Navy's Oak Knoll Naval Medical Facilities "Gold Team" in 1968. They informed of my father's exposures and that his high level Q  Clearance was presumptively extended to me now because of my "dirty dna." Still, I consider myself one of the lucky ones. As I'm discovering most of my friends at Atomic Veteran online communities were not.