Global Solutions: Finding Resources
As children of Cold War Atomic Veterans we were literally convieved during the birth of the modern Atomic Age. Some arrived as "at risk" births with presumtive genetic damage, others were suspected due to exposure but either were not documented properly due to faulty dosimeters or simply the lack of governemtal tracking mechanims.. Most unknowingly passed the damage on to their children unaware, only to learn later when they or their parent were declassified. Human Radiologic Experiments, (HRE's) were conducted by most governments involved in the arms race.
---
Locations of Cold War Nuclear Weapons Test Sites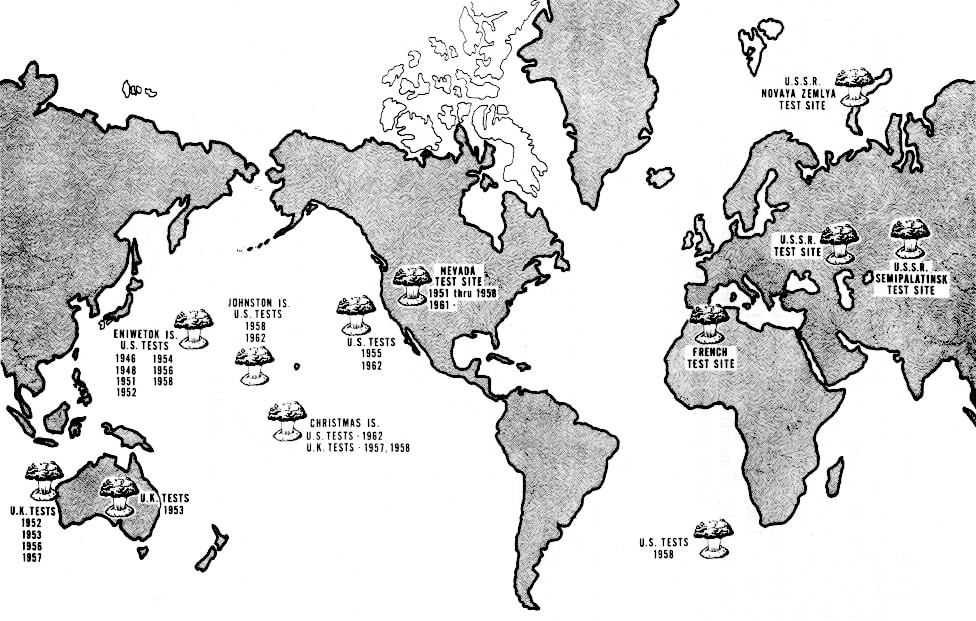 ---
Search for the Truth
Many Atomic Genetically Modified Offspring (GMO's) are only now discovering the truth or extent of their, or their child's medical impacts.
Understanding the range of conditions and organs effected is expanding, from blood disorders, reproductive challenges, cancers, birth defects, and a variety of emerging data is revealing and potentially hopefull for the future of mankind. Genetic damage is getting easier to identify, predict, evaluate and potentially valuable in treatments.
Getting this information however is nearly impossible, even for the Atomic Veteran themselves.  As offspring we struggle finding the information, dealing with civillian doctors who are less informend in my experience than military medical professionals. Not only have we had to watch our parents suffer in silence, often dying before their clearances expired, have lived under the shadow of them, many were allowed to bear children unaware of the genetic damage they were passing on,. Now not only have they suffered in silence with their own health impacts, they are forced to watch their children suffer.
​These generations of victims need this information, and we need it now.We need our respective governments's to allow those that can legitimately trace the exposures(s) in their heritage to have access to the information so we can help ourselves identify our risk potentials,  have the option of preemptive testing, or simply documents organized we can provide our physicians so they are better prepared to diagnose and treat the generations of victims now and those familes now destined to produce a lineage of Genitically Impacted Offspring (GIO's).
Emerging groups oganizing online communities are desperate to help oneanother share information. The need to stay informed is critical for ourselves and generations to come. We are an identifiable group globally and we should harness this to help researchers study and inform us. Future generations depend on it. A porthole to post relevant research results or simply announce volunteer studies to this growing tribe. I've been at it since I was told I was an "Atomic Child" at age 12 by the U.S. Navy's Oak Knoll Naval Medical Facilities "Gold Team" in 1968. They informed of my father's exposures and that his high level Q  Clearance was presumptively extended to me now because of my "dirty dna." Still, I consider myself one of the lucky ones. As I'm discovering most of my friends at Atomic Veteran online communities were not.