Test Years
The serviceman in the video below was one of around 22,000 British service personnel who witnessed nuclear tests on mainland Australia, the Montebello Islands off Western Australia and Christmas Island in the South Pacific, during the 1950s and 60s. The men were usually issued with little, if any, protective equipment, exposing them to high levels of radiation. After the tests, they were ordered to keep quiet about the horrors they had witnessed. Many went on to suffer ill health, with an increased rate of cancers, infertility and birth defects observed in veterans and their descendants.
---
They, and their decedents face unique health challenges. Born in the birth of the Atomic Age, many with known and assumed genetic damage, others with just suspected medical repercussions, but most governments didn't have tracking mechanisms in place. So as not to duplicate efforts, we understand the need to centralized resources. The need to stay informed is critical for ourselves and generations to come. As an identifiable group and we should harness this to help researchers study and inform us. This is a great place to start in the UK.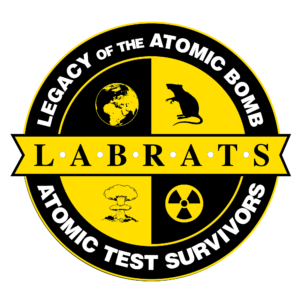 Member Organizations and Individuals from across the world are listed in the directory. The first of it's kind in the world, allowing people to contact their representatives within their country, ensuring that they are not forgotten and can receive any help they need.
LABRATS represents all individuals across the world who have been affected by the Atomic Testing program.  We are one big family, connected together with one common bond. Our Education, Recognition and Awareness program is a new ERA for the community.
The Atomic family, includes Veterans, descendants, indigenous people and organizations that represent all aspects of the Atomic tests. Thousands of people have been affected by the tests, and there are many organizations across the world representing these people. LABRATS brings all of these organizations together in one place. We want your stories and your input for our site.
---
Nobody Told Us Anything
By Charles Stewart
---
Locations of Nuclear Weapons Test Sites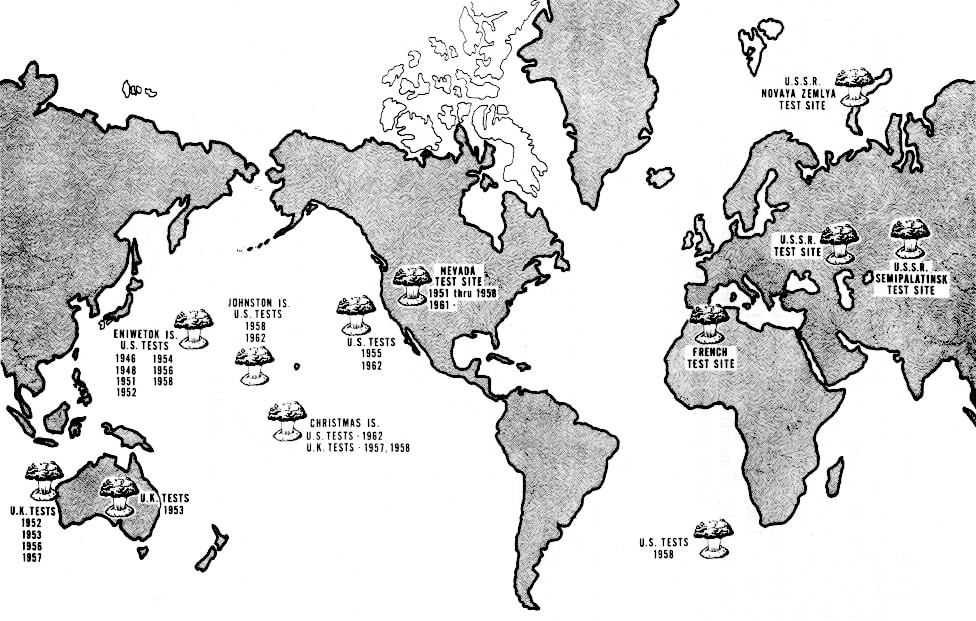 It is believed just 1,500 veterans are still alive today. Many decedents deserve answers and understanding of the challenges they face.
The ex-servicemen and their families have been battling the Ministry of Defense for recompense and recognition for years. Various promises of assistance from successive governments have come to nothing.
In 2009, a group of veterans won a High Court case, which paved the way for them to sue the MoD. In turn, the MoD argued that too much time had passed and the claim was excluded under limitations regulations.
The case ended up in the Supreme Court in 2012, where the veterans ultimately lost. The court sided with the MoD and ruled it was too long since the problems emerged.
A Freedom of Information request later revealed that between 2005 and 2010 alone the MoD had spent over £1.8million defending the case.
There was a ray of hope in 2018, when Defense Secretary Gavin Williamson promised a medals review and new health research. However the medals have yet to materialize.
The results of a new health study was expected in 'mid-2020'. In August this year, the MoD and Veterans UK produced new guidance for claiming compensation for a list of specified conditions relating to exposure to ionizing radiation, including various cancers.
But the last line of the new guidance delivers a kick in the teeth to every Cold War hero: 'The policy is however, not an acknowledgement that those present at the tests were exposed to harm.'  This stance is in stark contrast to other nations which have recognized their surviving veterans.
Many Atomic GMO's are only now learning they are facing medical and genetic fallout from their parents, or grand-parents exposure to these now-known carcinogens. The range of conditions and organs effected is growing in understanding, from blood disorders, reproductive challenges, birth defects, a variety of emerging data is revealing new information.