Ionizing Radiation Exposure (iR)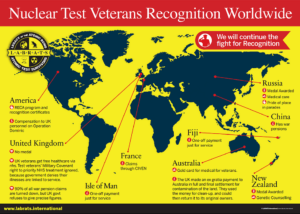 General Nuclear Weapon Links
Alsos Digital Library for Nuclear Issues The Alsos Digital Library is a web-based collection of references to resources that offer a broad, balanced perspective of topics relating to the origins, functions, and legacies of the Manhattan Project. The materials referenced includes books, articles, videos, images, and web sites.
The Bomb Project This site has an extensive list of links to nuclear weapons sites on the Internet. One unique feature is a collection of links to recent online new articles related to nuclear weapons.
---
Trinity Atomic Site
Bureau of Atomic Tourism This site lists atomic tourist attractions in the U.S. with a one-page description of each, including the National Atomic Museum and Trinity Site.
Another 50th Anniversary visit to Trinity Site at the Center for Land Use Interpretation I am not exactly sure what the "Center for Land User Interpretation" is all about, but they have written a one-page description of their visit to Trinity Site. They also sell a great visitor's guide to the Nevada Test Site.
Another Visit to Trinity Atomic Site This page describes a visit to Trinity Site in words and photos. Includes links to other Trinity Sites and a short bibliography.
Seattle Times History of Trinity The Seattle Times wrote an article about the history of the Trinity Test that includes a visit to Trinity Site.
---
Manhattan Project History
Los Alamos History Online   Has gone Offline. The Los Alamos Research Library sponsored this page of historical documents about Los Alamos. Once upon a time it could be found at http://www.lanl.gov/history/index.shtml
Leo Szilard Home Page Leo Szilard was a brilliant and eccentric physicist who first conceived of a nuclear chain reaction, worked for the Manhattan Project, and later worked for international control of nuclear weapons. This WWW site has extensive information about Szilard and early atomic history. Especially note the pages on Radiation Monitoring at Trinity and Eyewitness Reports on the Trinity Test.
---
Nuclear Weapons Technology
The Swords of Armageddon CD-ROM Chuck Hansen has spent over 25 years pushing the barriers of secrecy around nuclear weapons. He has updated and extended his 1988 book U.S. Nuclear Weapons: The Secret History in this CD-ROM. He tells the inside workings of nuclear weapons technology and presents an elaborate history of nuclear weapons tests, especially how those tests improved weapons design.
---
The Nuclear Age
Otowi Station Bookstore (Los Alamos) This bookstore is located next to the Bradbury Museum in Los Alamos. They offer numerous books and videos about atomic history in their online catalog.
Trinity and Beyond Video This is the most amazing documentary of nuclear weapons testing since The Atomic Cafe. More serious in tone, it covers the entire span of above-ground tests. The Toronto International Film Festival site has two other video clips as well.
Jayne Loader's Public Shelter CD-ROM Jayne Loader was co-creator of the hit movie, The Atomic Cafe. Her CD-ROM is a wacky and in-depth look at the nuclear age and its echoes in society. Look beyond the video clips, which are sometimes humorous and sometimes chilling. An extensive archive of searchable text documents makes this a useful reference work in addition to all the fun.
Atomic Archive:Enhanced Edition CD-ROM  Highly recommended Atomic Archive: Enhanced Edition combines photographs, restored film footage, and historical documents with over ten years of research to tell one of the most intriguing stories of the twentieth century. It contains over thirty minutes of video and more than 400 photographs from government archives, an extensive text written for this CD-ROM, and interactive maps and timeline of the nuclear age.
---
U.S. Government Information Sources
Children of Atomic Veterans Research Studies   Freedom of Information Act FOIA.gov, the government's central website for FOIA
National Archives and Records Administration The U.S. National Archives contains a wealth of information about the history of the Manhattan Project. You can search the on-line catalog or go directly to the WWW page of selected WWII photos (the photos themselves are on-line).
Department of Energy OpenNet Database ​This database is an incredible resource. It can be searched for documents from the beginnings of the Manhattan Project all the way up to present activities. Many of the documents are housed at the DOE/NV Coordination and Information Center. Copies can be ordered (via e-mail!) for 25 cents per page.
Office of Human Radiation Experiments The Department of Energy has gone to great efforts to open up this hidden chapter of atomic history. In addition to the over-view report, you can search through an extensive database of documents. The bad news is that the search procedure is very awkward. The good news is that the documents themselves are on-line, though only in GIF or TIF image format. (These documents are also indexed through the Dept. of Energy OpenNet Database, see above).
Congressional Office of Technology Assessment (OTA) The OTA was closed in 1995 in a short-sighted attempt a budget-cutting. OTA issued numerous reports on the nuclear proliferation, the weapons complex, and clean-up of nuclear sites. Fortunately the OTA documents (all public domain) are available on-line or on an inexpensive set of CDROMs.
---
OTA Report Archive Related to Nuclear Weapons
---